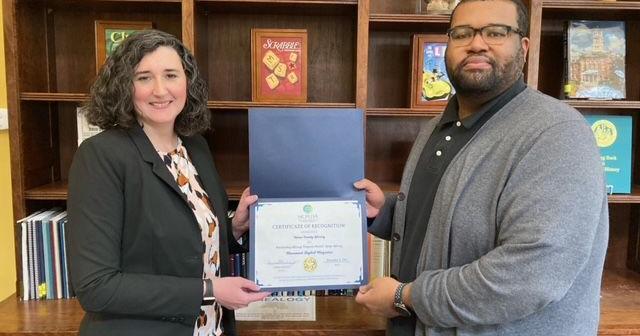 Union County Library Magazine Wins Literacy Award | Investigator's Log
The North Carolina Public Library Directors Association (NCPLDA) recently awarded the Union County Library Movement literary magazine an NCPLDA Award for Literacy in the Large Library category.
Movement Literary Magazine showcases the community culture present in Union County, North Carolina. The magazine promotes different interests in literacy and attracts community participation through interviews with community leaders, works submitted by patrons and programs offered to the public.
Union County Library wanted to create a magazine that would draw on all cultures, with each issue focusing on a theme, whether it was a national holiday or an event, to encompass how the library is a valuable resource for the community it serves. The public is invited to write their own point of view on the subject for each issue. The April issue was about National Poetry Month and patrons submitted their own works of poetry.
Movement Literary Magazine collaborated with community organizations such as Trinity Wellness and Union County Parks and Recreation to publicize a newly recognized holiday for the city of Monroe, Juneteenth.
All 2021 volumes of the magazine can be found on the library's website, with print copies available for viewing at libraries.
The NCPLDA Awards Committee annually recognizes the achievements and efforts of North Carolina public libraries and their staff. The committee solicits and evaluates member nominations for recognition and award winners in various categories.