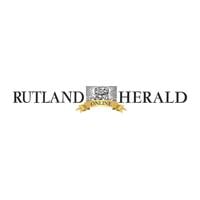 Saunders: Celebrating 105-year-old Shirley Jackson | Weekend magazine
December 14 marks what would have been Shirley Jackson's 105th birthday. Born in San Francisco in 1916, she went on to write one of our biggest short stories, "The Lottery". It was first published by The New Yorker in 1948, the story of a village that annually holds a ceremony leading to the stoning of one of its own inhabitants.
While a student at Syracuse University in the late 1930s, Shirley met Stanley Hyman, the man who would become her husband. Soon after, in 1940, the two married and left New York City, gaining him a writing job for The New Yorker while also establishing himself as a literary critic.
In 1945 Stanley was offered a professorship at Bennington College. The young couple moved into a 14-room house on Prospect Street where Shirley would write "The Lottery," as well as her first novel, "The Road through the Wall," of which she said: "The first book is the book you must write to get back to your parents. Once you've settled that, you can start writing books. Despite the difficulties Jackson had with her parents, she retained her sense of humor to the point where, later in her life, "Desi Arnaz inquired about her interest in writing a screenplay for Lucille. Ball ".
Shirley and Stanley did not move to Hollywood, but they did take their leave of North Bennington, residing for a time in Westport, Connecticut, believing they could live there permanently. But as biographer Judy Oppenheimer explains in "Private Demons: The Life of Shirley Jackson": "The community of Westport was not perfect either, Shirley had discovered – too suburban for her liking."
So it was the return to North Bennington during the heyday of Bennington College, when some of the nation's most acclaimed artists and scholars were, as Oppenheimer puts it, "drawn to campus by the idea of ​​a truly free environment. and creative, and found it close enough to the ideal that they settled down to stay.
Among the esteemed regulars was novelist Ralph Ellison, famous for "Invisible Man," and just as we like to ask ourselves what a Lucille Ball / Shirley Jackson collaboration could have been like, we like to wonder what were the conversations between Jackson and the man who at the time was America's greatest African-American writer.
Aside from all the celebrities who made their way onto campus, Jackson was intrigued by the 1946 disappearance of Bennington College student Paula Jean Welden. Having just finished a shift in the school cafeteria, she returned to her dormitory long enough to tell her roommate that she was going for a walk on The Long Trail, the entrance to which was only a short walk away. short distance. It was December 1st and snowflakes were floating gently. But they turned into a blinding blizzard, and Welden was never seen or heard from again.
Jackson beheld the mystery in his stories, "The Daemon Lover" and "The Missing Girl". At one point, the mystery consumed her so much that she had to deepen her thoughts, which resulted in her 1951 novel "Hangsaman".
In 1953, Shirley and Stanley bought a house on Main Street in North Bennington. It was less than a mile from where they had lived on Prospect Street. The new house would be even more sprawling than the first, this one having 20 rooms, a necessity to store their 100,000 or so books. There, the author has produced hundreds of stories for popular magazines such as Ladies Home Journal, Harper's, Woman's Day, Miss, McCall's and The Saturday Evening Post.
She also continued to write novels, the most acclaimed being her 1959 thriller "The Haunting of Hill House". The Wall Street Journal declared it in no time to be "the greatest haunted house story ever written." The master of the macabre, Stephen King, did not limit his analysis to haunted houses, but rated it as "one of the best horror novels" period. Hollywood came running in, producing "The Haunting" in 1963, which would become a horror classic.
In his latest novel, "We've Always Lived in the Castle," Jackson undertakes what has been a propensity to conduct psychological analyzes throughout his career. In this novel, the author is all the main characters of the novel: Constance who never leaves the castle, Merricat who only leaves to shop and go to the library, and the disabled Uncle Julian.
Jackson herself was now battling her own set of illnesses. When, in 1965, she died at the age of 48, her literary heritage also waned. Soon only "The Lottery" would still be printed.
Then Providence took hold of Alice Walker, famous for "Color Purple", taking it upon her to resuscitate Zora Neale Hurston. The result was a spiritual excavation, Walker first having to locate Hurston's anonymous grave, and then locate it in its proper place in the arts and letters. Walker documented the experience in a 1975 Ms. Magazine article titled "In Search of Zora," where she officially announced, "Zora Neale Hurston is one of the most important unread authors in America. "
Finally, three years later, "Their Eyes Watched God" would be reissued by the University of Illinois Press, 41 years after the novel first appeared. Chance also had something to do with it, as the revival of this novel was occurring just as the second movement for women's rights began.
A similar revival was occurring in Jackson's name. Trials began to appear. Then full biographies. No more movies. An annual celebration in North Bennington. A graphic novel inspired by the "Lottery" written by his grandson.
Jackson is unlikely to be relegated to the periphery of great literature again.
James Robert Saunders teaches English and other subjects at Barre City Elementary and Middle School, is Professor Emeritus of English at Purdue University, sits on the Vermont State Board of Libraries, and lives in Plainfield.