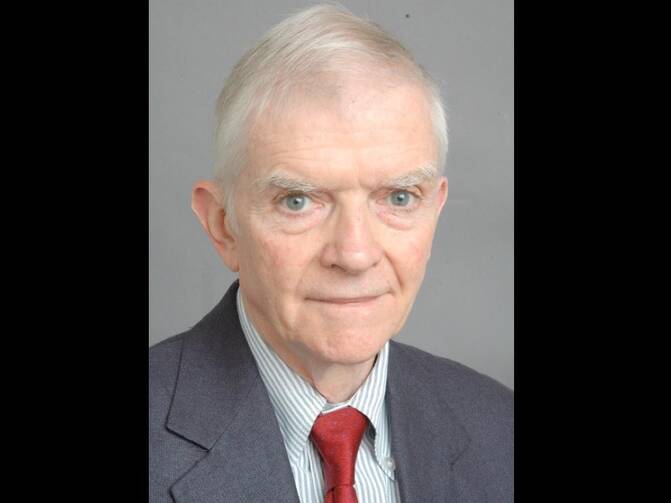 Remember Charles R. Morris, who wrote about everything (including America Magazine)
When America Approaching its centenary in 2009, editors wanted a historian to provide an unbiased view of our century of publication, something to include in our special 100th anniversary issue. While a number of Historians were among our regular contributors, we wanted someone who would approach the material as an outsider, as the special issue advertised as, well, a little self-congratulating.
We have found the perfect author among our book reviews.
Charles R. Morris was known for many things more than his literary appraisals for America, of cours. After his death on Monday, his New York Times obituary called him an "iconoclastic author," and that's what he was. His first book was a 1980 exposition of the corruption and financial waste found in New York City's welfare programs; his most famous book was The collapse of a trillion dollars, a 2008 financial analysis that oddly and accurately predicted the economic collapse that devastated the U.S. economy later in the year. Other books covered topics ranging from the arms race of the Cold War to the computer wars of the 1980s to the Great Depression to surgical operating rooms.
Born in 1939 in Oakland, California, he attended a Catholic minor seminary in New Jersey for high school before moving to the University of Pennsylvania, where he studied journalism. He went on to work as a lawyer, banker, and government employee in New York City and Washington State. He had no formal training in economics, and yet turned out to be a prognosticator without equal economic trends, attracting the attention of global financiers like George Soros who were astonished at Morris' foreknowledge.
Many of us at America also knew about the vast history of the Catholic Church in the United States from 1997 by Mr. Morris, american catholic.
He was also, as mentioned, an occasional book reviewer for America, writing on a variety of subjects including educational theory, economics and historical biography, and showing a wide range of intellectual interests reflected in his 15 non-fiction books.
Many of us among the staff of America also knew about the vast history of the Catholic Church in the United States from 1997 by Mr. Morris, American Catholic: The Saints and Sinners Who Built America's Most Powerful Church. The opening pages describe the dedication of St. Patrick's Cathedral in New York on May 25, 1879. Mr. Morris notes that although the Gothic-inspired cathedral was described in most accounts of the time as complete, in fact the The building was still a squat, unadorned rectangle that "curled up in a block, placing its shoulders above the tens of thousands of worshipers who gathered to witness the dedication ceremony." The money to build was long gone, and the cathedral had no arrows; it was not completed until 1908.
But with the exception of some notoriously anti-Catholic magazines like Harper's Weekly and The Atlantic Monthly, wrote Mr. Morris, almost all of the newspapers which covered the dedication described the cathedral as complete; some even had drawings of the building that depicted spiers and steeples that did not yet exist. Mr. Morris's implicit point was subtle but also clear: The unfinished state of the cathedral on that day was not as important to the Catholics in the city, nor to the city itself, as the importance of the moment. The Catholics, with their Protestant-designed cathedral on Tony Fifth Avenue, had finally arrival.
"The Morris industry has amazed us all," said Father Martin. "And he quickly became a beloved, if not exactly official, addition to the staff."
It's a masterful introduction, and the book is first-class scholarly work, insightful but also in-depth, and readable throughout. Therefore, we were thrilled with the response when James Martin, SJ, then associate editor, approached Mr. Morris in 2008 to write a brief retrospective on America for the special issue. Father Martin said that "Charles Morris was our dream candidate for this rather monumental task: he was a brilliant writer who understood the church and also, we knew, would be both fair and scrupulous about AmericaThe story is not always perfect.
Not only would he be happy to do so, Morris said, but he would come to the magazine to do his research. "My plan was to spend a few days in the archives, go through the issues to spot what caught the attention of editors decade by decade, and build the article around that," Morris wrote in 2009.
"I duly introduced myself one day in December, and as soon as I saw the archives, I realized I hadn't done the math. It turned out that a hundred years is 4,851 numbers; and the first issues were very thick — 90 pages or more! Worse, they were interesting. After spending almost a full day, I was just starting 1911. Quick mental calculations suggested I would still be there in April… or maybe June.
Mr Morris claimed that he 'had finally devised a system involving a digital camera and my laptop, so that I could store lots of page prints and work on the text anytime I was free from early in the morning or late at night, at airports or boring meetings. "It's not the memory America copywriter at the time had his style of work.
Charles R. Morris had had enough seat for an army.
German speakers – or anyone who has worked as a writer, gemologist or chess player – may be familiar with the concept of seat. The word is a linguist's joy – literally, his "sitting meat" – and refers to the requirement for certain professions to be able to spend hours parked on his keister, focusing only on the task at hand.
Charles R. Morris had had enough seat for an army. He sat day by day in Americain the offices of, leafing through dusty tomes and carefully taking notes by hand. We would glance every now and then and nervously ask him for lunch or offer to bring him coffee; this renowned financial wizard, we thought, looked more like a medieval monk in a scriptorium.
"The Morris industry has amazed us all," said Father Martin. "And he quickly became a beloved, if not exactly official, addition to the staff. He also dazzled everyone with his seemingly effortless mastery of so many subjects: economics, politics, literature, and of course, church history. He was also one of the most charming and learned people you would want to meet.
At the end of the retrospective (he finally had to divide it into two parts, having understood that 100 years would not be summed up in 4,000 words), it presented all the characteristics of his style: a preference for large themes rather than for separate events, a look for details that provided unexpected information, a strange ability to find a pithy quote that could replace an exposition paragraph. Even though his tone was optimistic and judicious, he did not let America unhooked for its many weaknesses over the years. It was, in short, the trademark Charles R. Morris.
When Mr. Morris passed away on December 13, the world lost a powerful intellect and a voice for honest and flawless reporting, a figure whose initial training as a journalist informed all of the many vocations he embraced at the course of a long and fruitful life. And we at America lost a respected and cherished friend.
His retrospectives on America can be read here (1909-1958) and here (1959-2009). Other America reviews and essays by Charles R. Morris can be found here.