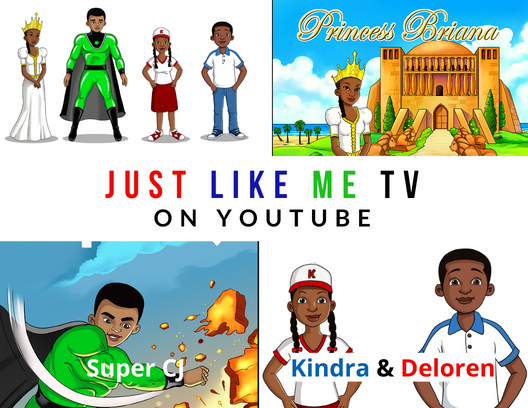 Just Like Me World – Perfect animated content for every child
Have you ever noticed that there aren't enough inclusive cartoons or animated movies for kids of color? This puts the younger generation in a position where they may feel left out when watching cartoons and animated films. Well now, as parents, you don't have to worry about that anymore because Just Like Me World has now launched its new animation studio producing half-hour cartoons and animated films starring featuring color characters like superheroes, princesses and action heroes based on their popular books Super CJ and Princess Briana.
Yaba Baker, President of Just Like Me World writes, "We take the concepts of authentic portrayal, Pixar-like storytelling, and social-emotional tools that we have in our books and bring those same concepts to life in our new animated projects. . We will announce which character show will be the first to go into production in late October 2022 with the animated episode Lirst airing on our Just Like Me TV channel on YouTube in early 2023.
Just Like Me World decided to turn their books into animated content based on the rave reviews from Super CJ and Princess Briana. A reviewer from Publishers Weekly said this about Super CJ: "Baker deftly delivers the overall message – that anger fuels bad choices – without sounding judgmental, a balance kids will appreciate. The lively dialogue will tickle the fun bones of both adults and children, especially the dog-boy chatter. (A Publishers Weekly magazine is the most popular magazine in the publishing industry.)
Their regular viewer, Lara R, writes, "I read Super CJ with my 6 year old who doesn't normally like to read a whole book, and he loved it! The fast pace, engaging illustrations and exciting events (Fireballs!) kept him on his toes. He also happily engaged with the social/emotional themes presented in the book ("Mom, we should give the homeless something something outside of our gym", "just as my anger made me hit my brother! CJ needs to learn to control his anger, too!) It was clear that having a hero who looked like him made it easier for him to relate to the story. It's a great story for developing social skills and emotional with your children.
"Princess Briana's positive reinforcement of non-traditional aspects of beauty that encourages all girls who struggle to not look like the women on the covers of national magazines and the women in music videos. Princess Briana's fairy tale is both fun and inspiring. This book is a valuable asset in the fight against negative self-esteem and I highly recommend that this book be given to all young girls. Child Psychologist, Jennifer Penn
"Princess Briana's story is an inspiration to all my students. The excitement, engagement, and endless discussions that occur during and after reading Princess Briana are priceless. This story should be part of every school curriculum. The story is entertaining, exciting, realistic, touching and relevant. I ask my students to read the story again and again. Tremayne Mercurius, educator
The best thing about Just Like Me World cartoons is that they help children better understand themselves and navigate their issues with anger management, self-esteem, and selecting good friends. They also have 2 new animated series coming to Just Like Me TV in 2023. The Adventures of Super CJ and Princess Briana books can be found on Amazon.com or ordered through Ingram Books for schools and libraries worldwide.
So what are you waiting for? Go ahead and treat your kids to the right kind of entertainment provided by Just Like Me World.
Media Contact
Company Name: just like me world
Contact person: Yaba Baker
E-mail: Send an email
Call: 888-622-3022
Country: United States
Website: https://www. justlikemeworld.com/