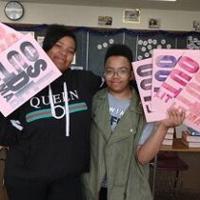 How Outside Literary Magazine Encourages Students to Show Their Creativity | Creators
Regardless of the types of art presented, the program always prioritizes students with a creative development process that follows professional magazine production.
"In the first semester, we are developing a common vision for this year's magazine [by] looking at a wide variety of literary magazines – local and national, [do-it-yourself] and established, online and in print," says Petersen. "From there, I support them in developing submission guidelines, developing a communications plan, and creating marketing materials. I answer questions, help them make tough decisions, and support the realization of their vision. »
Traditionally, the program takes place after school with alternating writing workshops open to all students and editorial meetings for editors, who have applied for their management positions. COVID-19 caused disruption in the after-school curriculum, so the CVPA team introduced an editor program that engaged students in the school's creative writing class.
Since its inception in 2016, the program has grown and expanded to meet the needs of students and their audiences. To make this possible, outside funding through donations from the St. Louis Regional Arts Commission, The Saigh Foundation, Wells Fargo, The Will Flores Fund, and many individual donors helps make this possible.
This generosity and the work of Petersen and other adult collaborators have made the program a resounding success for the students who participate.