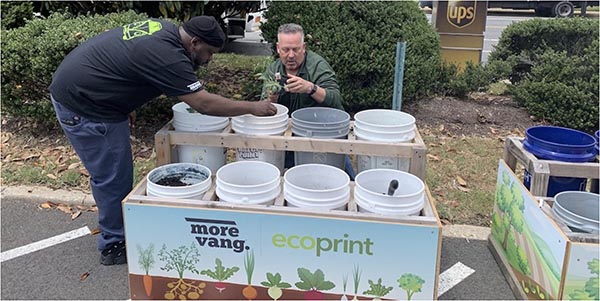 EcoPrint's content marketing is a model of authenticity
Customers are increasingly looking for suppliers who "lead the way" when it comes to sustainability. A look at EcoPrint, a printer committed to environmentally friendly services, as an example of how a store does it well.
Sustainability is good for business and a growing number of printers are making their efforts public. They know that their customers love to see them truly "walk the talk" not just in what they sell, but in what they do. Along the same lines, I've been following EcoPrint/More Vang (Alexandria, Virginia) and love what the company does. Of course, its business model is lasting print, but the company also lives by its values.
Earlier this year, for example, the company caused a stir with its eco-video promoting its work with the Jane Goodall Institute, which uses its sustainable murals. While the video ultimately introduces viewers to DreamScape Terralon, which is made from 31% recycled water bottles, the short itself powerfully focuses on the challenge of single-use plastic in the oceans and the impact devastating effects of these plastics on marine life. The short has screened at various film festivals including Shore Rivers/Wild & Scenic Film Festival, AFI Silver/European Union Film Showcase, AFI Silver/Latin American Film Festival, and DC Environmental Film Festival.
We also see this passion in the company blog. While EcoPrint weaves subtle promotion of its eco-friendly printing solutions, the majority of its blog posts feature the work of environmental organizations such as the Chesapeake Legal Alliance, Phillips Wharf Environmental Center and ShoreRivers, and draw attention to important issues such as global warming, water cleanup, and legal support to protect the Chesapeake Bay watershed. Along the way, EcoPrint offers education on sustainable topics, such as the role of post-consumer waste in recycled paper, encourages readers to participate in a "car-free day", and offers education on sustainable alternatives to Coroplast. for promotional signs.
The purpose of the blog is not (specifically) to sell the company's services. It's about getting a message across and supporting its brand message: we care.
Even the company's 2022 calendar focuses on mission, not sales. Titled "Protecting the Natural Beauty of the Chesapeake Bay," the timeline features the work of 13 environmental organizations dedicated to cleaning up the Chesapeake Bay waterways. These include the Chesapeake Conservancy, LiveWater Foundation and Ferry Cove Shellfish, among others, with text promoting their work and successes and encouraging grantees to support them.
Creating a parking lot garden is one of the many ways EcoPrint is stepping up to sustainability…and communicating authenticity to its customers and prospects.
In its content marketing, EcoPrint also talks about its own efforts. But it's woven, like a secondary message, rather than a hard sell, and its customers and prospects can't miss the company's passion. On the inside cover of his calendar, for example, he talks about the efforts that many other printers are also doing, like buying green power and his extensive recycling efforts, but he also talks about other initiatives that most other printers don't. :
In partnership with ForestPlanet, EcoPrint hosted an e-waste collection event that collected over two tons of obsolete electronic equipment that would otherwise end up in a landfill or release toxic pollutants into local groundwater.
Also in partnership with ForestPlanet, EcoPrint provided free bike tune-ups at one of the area's busiest and most beautiful parks. In all, he has developed nearly 100 bikes and promotes ForestPlanet's reforestation successes to the community.
Since the beginning of EcoPrint's partnership with Forest Planet, he has planted two trees for each print project ordered. By the end of 2021, these efforts have resulted in the planting of 20,000 new trees.
The EcoPrint team hopped on bikes and competed in the annual Shore Rivers cycling event to raise money to protect the rivers and waterways of Maryland's east coast. Cumulatively, the EcoPrint team has traveled over 150 miles. In total, the event raised over $33,000.
Last summer, the company set up a "bucket garden" in its parking lot. With nothing more than buckets, water and soil, EcoPrint's small parking lot garden produced a variety of produce, including tomatoes, hot peppers, sweet peppers, sweet banana peppers and long red cayenne peppers.
Even EcoPrint's in-house team takes sustainability seriously. Bobby Firestein, the company's vice president, is so passionate about the new sustainable substrates, for example, that he tested them in his own backyard for more than 90 days.
I could go on, but you get the idea. What I love about this company is that they share their passion for the environment in a way other than what they sell. Its customers and prospects cannot miss the authenticity – that sustainability is truly a passion for this company and not just a business model.
Buyers today want their suppliers to place their brand image behind important causes, be it social justice or the environment. Whatever cause their favorite companies and brands support, consumers want them to be sincere and authentic about it. Authenticity isn't something you can create on the spur of the moment by writing a blog post or two. It is something to be experienced and then communicated over time. In these communications, the EcoPrint model is good.