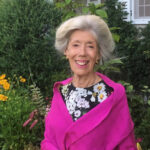 David Adler Alert! | Chicago Classic Magazine
By Judy Carmack Bros.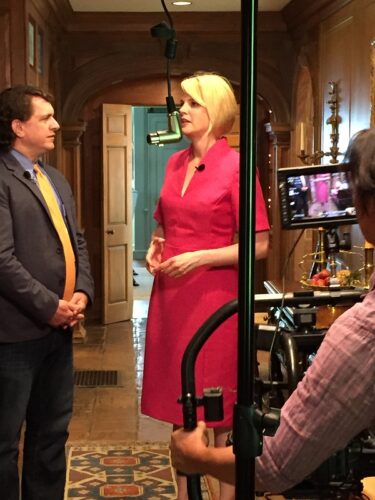 Thomas Gleason and Kristin Noelle Smith in the gallery of the McCormick Blair house
New documentary on PBS Chicago in June
David Adler: Great House Architectt, a four-part documentary highlighting the life, clients and classic architecture of the man often referred to as "Chicago's architect of society," will air each Friday night in June on the WTTW Prime channel from PBS Chicago thanks to the vision of Kristin Noelle Smith, producer and host. This series features on-site expert interviews at four distinct Adler estates, including two in Lake Forest, one in Lake Bluff, and another in Ipswich, Massachusetts. https://schedule.wttw.com/series/33131/David-Adler-Great-House-Architect/
Producer and host Kristin Noelle Smith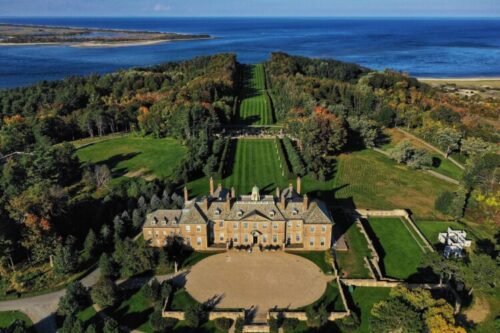 Castle Hill in Ipswich, Massachusetts
Smith told us:
"David Adler's designs for most of the houses, over 45 in all, are an elegant, eclectic, American blend of a wide range of classic styles, for upper levels of wealth: industrious entrepreneurs, merchants, financiers and manufacturers whose contributions to daily life were invaluable, they could have hired anyone, they chose David Adler.
Kristin chose houses for the series to reflect the wide variety of her styles from 1925 to 1934 during the "big house period". From 18 years olde from century-old French castles to Italian Renaissance villas, Georgian structures, American and Spanish colonial homes and even a half-timbered English mansion. Adler's grand homes were built on a large scale, originally on large landscaped properties. "He could do anything," she said.
Episode 1, which airs June 3 at 6:30 p.m. and 11:30 p.m., focuses on the Crane Mansion in Ipswich, Massachusetts, which is open to the public. Author and curator, Susan Hill, is the guide. Adler was inspired by 17th century Belton House and Ham House in England. He used architectural salvage from the Earls of Essex Library created by the "Kings' Carver", Grinling Gibbons, as well as paneling from a 1732 London townhouse. Smith shares the photos below.
Curator Susan Hill Dolan with Kristin Smith at Castle Hill Library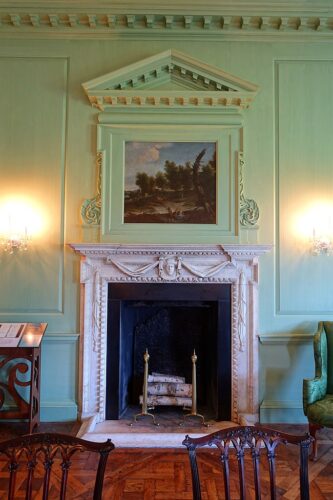 In episode 1: A beautiful interior in Castle Hill
"I started this documentary because there is great beauty in Adler's work and I think more people would like to know about it. Let's help preserve buildings of architectural significance for future generations so that they may continue to inspire. These buildings are 90-100 years old and now is a good time to highlight their significance. The process of historic preservation begins with education, often not provided in schools," Smith said."David Adler: Great Home Architect was created to support this mission.
Filming for the series was completed before COVID, but editing was delayed for several months as research libraries such as the Art Institute's Ryerson & Burnham Library and the Adler Arts Center in Libertyville were closed.
Kristin holds a BA and MBA from Northwestern University, as well as a degree in which she studied Decorative Arts, Architectural History, and Furniture. She is currently the executive director of the American Friends of Versailles, which is based here in Chicago. Interestingly, David Adler visited the Palace of Versailles and was directly inspired by La Lanterne, a residence in its grounds, which is now a retreat for the President of France. "In 1923 Adler designed Carolyn Morse Ely's 'La Lanterne' house in Lake Bluff. It was originally built on 17 acres and was definitely influenced by its namesake at Versailles," he said. she declared.
His love of its classical architecture started early. She was first introduced to the timeless work of David Adler as a student when she was invited by friends to homes he designed in Lake Forest. Struck by their particular allure and glamour, and motivated by her Francophile leanings and appetite for history, she set out to learn all she could about Adler, poring over texts and eventually visiting a museum exhibit about him. , and, in the process, became even more in love with his timelessly beautiful work.
Young David Adler
Born in Milwaukee, Adler (1882-1949) studied architecture in Munich and at the prestigious Académie des Beaux Arts in Paris. He traveled extensively through Europe and England with his sister and then his wife Katherine to collect information and architectural salvage for use in his commissions in the United States.
David and Katherine Adler with Marshall Field III
Tragically, Katherine died in a car accident in Normandy, France in 1930 at the age of 37. They had no children.
At least 12 of his works are now listed on the National Register of Historic Places. Smith comments that Adler's works are known for "symmetry, human-scale grandeur, meticulous detail, architectural salvage, and a wide variety of historical inspiration".
"It was a bygone era when the wealthy employed live-in staff of butlers, chauffeurs, gardeners and maids, and there were pastry rooms, flower rooms, pressing rooms and more. "Smith said. "He had such exquisite taste. I would have liked to visit the townhouse he built in New York for Mr. and Mrs. Marshall Field III, but unfortunately it was torn down. Many of the larger estates, such as the Lasker property in Lake Forest, were divided.
Kristin has found, perhaps due to Adler's historicism, his reluctance to publicity, and the private nature of his affluent clients that, among notable architects, he is often overlooked. In addition to the documentary, Smith recommends the books on Adler and expresses his gratitude to all who participated.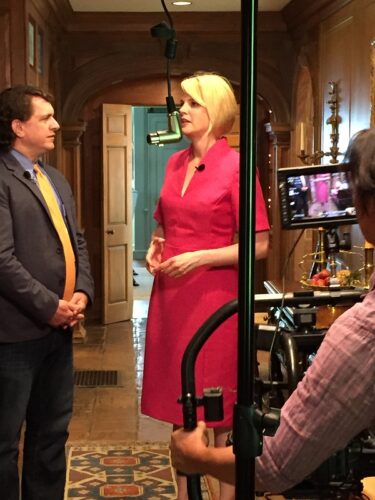 "We have incorporated the original floor plans and elevation drawings of these four homes, often tightly bent, torn or torn but of great significance," Smith said.
She shared photos from Adler's American, early 19e Century-style estate, "Port o'Call", designed in 1926 for the William McCormick Blairs at Lake Bluff. Featured in episode 2, titled "Formation," it will appear on Friday, June 10 with a tour led by its collections manager, Thomas Gleason. The house is not open to the public.
On Episode Two: Port o'Call" designed for William McCormick Blairs at Lake Bluff in 1926
On episode 2: Topiaries in Port o' Call
Episode 3 from June 17, titled "Career", invites viewers to visit Adler's French Norman 17e century-old "Innisfail II" style residence in Lake Forest and includes an interview with renowned owner and architect Adrian Smith and his son, real estate developer Jason Smith. The house is not open to the public.
On episode 3: Cudahy 1930. Orangery
On June 24, Episode 4 concludes the series, "An Era Ends," and features Adler's Georgian residence "Wheeler," built in Lake Forest in 1934. Author and librarian Arthur H. Miller takes the viewers on a tour of this private residence. .
On Episode 4: From the 1934 Georgian Wheeler House to Lake Forest
"He was one of the last great eclectic architects and always used the finest craftsmen, yet he is overlooked in Chicago's architectural pantheon time and time again. People need to be exposed to more beauty in their surroundings, and Adler's greatness needs to be shared with an even wider audience," Smith summed up.
Congratulations to Kristin Noelle Smith whose documentary fulfills its mission. Get more details at adlerarchitecturefilm.com
Don't miss the series David Adler: Great Home Architect airs every Friday in June at 6:30 p.m. and again at 11:30 p.m. on PBS Chicago's WTTW Prime 11.2 channel, Comcast 367 or 370, and RCN 37.