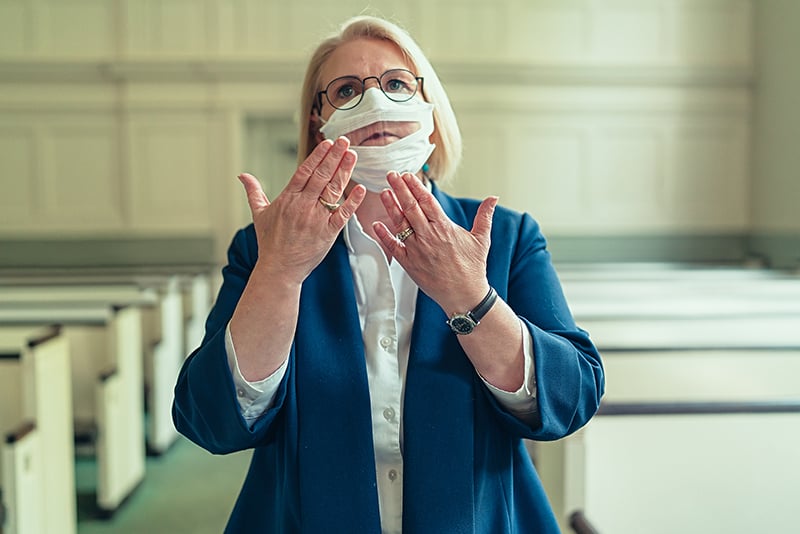 Charlotte Prof develops a transparent mask for lip readers
It's time to unmask Charlotte's Masked Crusader: Dr Anne McIntosh, a communications expert who thought about masks long before COVID. McIntosh, who lives in Davidson, is a professor of communication at Central Piedmont Community College. His specialty is the study of communication, how it works or not, with an emphasis on conflict resolution and problem solving.
Her own communication crisis led her to create the Safe 'N' Clear Communicator, a mask with a transparent panel that allows people to see your mouth and read your expressions. McIntosh is deaf, so she knows what can happen when people can't hear you or even read your lips. "Communication is a fundamental human right," she says. "You must have this connection."
Her own mask journey began in 2001, when she gave birth to her first child. After 24 hours of labor, her doctor ordered a Caesarean and took her from the labor and delivery room to an operating room, where everyone from the surgeon to her husband was masked. No one could tell her what was going on because she couldn't see their lips. She couldn't make sure anyone knew her blood type or that she was allergic to penicillin.
"Everything went well. Our daughter was born," McIntosh tells me on Zoom, allowing him to read my lips. "But I thought how close that could have been. There was no time to think about how to communicate. No one has a whiteboard (to write on). It was an "oopsy" moment. Once her communication crisis was over, she began to wonder, "Why Don't we just have transparent masks? This oopsy has become my "aha".
It wasn't that easy, of course. First, she found a company in the state to make a prototype flexible fiber disposable surgical mask with an integrated clear plastic panel. She wanted it made in the United States, so she found a family business in Texas that makes medical grade equipment. The company gained approval from the Food & Drug Administration in 2016, and McIntosh began marketing and selling, primarily in hospitals, especially children's hospitals. "Children like to see faces, that reassuring smile. "
The transparent mask looks a bit odd if you're not used to it: an isolated mouth can look like a forced smile. But sometimes the need to see your mouth is more important than your appearance. McIntosh's mask is now used in places beyond operating rooms. While not in use at the Novant or Atrium facilities in Charlotte, it is popular with children's hospitals, including St. Jude in Memphis and the Seattle Children's Hospital. It is useful in early childhood education – children learn pronunciation by seeing the mouths of their teachers – and in senior care facilities, including Brookdale Senior Living. Its most surprising clients: veterinarians. Dogs judge our moods by our facial expressions.
McIntosh's mask, medical grade equipment made in an FDA approved facility, costs more than others – $ 60 for a box of 40, although the cost per mask is a bit cheaper if you buy in bulk. . You can order it online at safenclear.com.
McIntosh doesn't apologize for the cost, however. Her mask is fog resistant with a sturdy nose and comfortable woven earrings. Most of the cheaper surgical style blue paper masks are made in other countries that do not inspect their factories. His sets a higher standard: "It's the Mercedes of masks. "