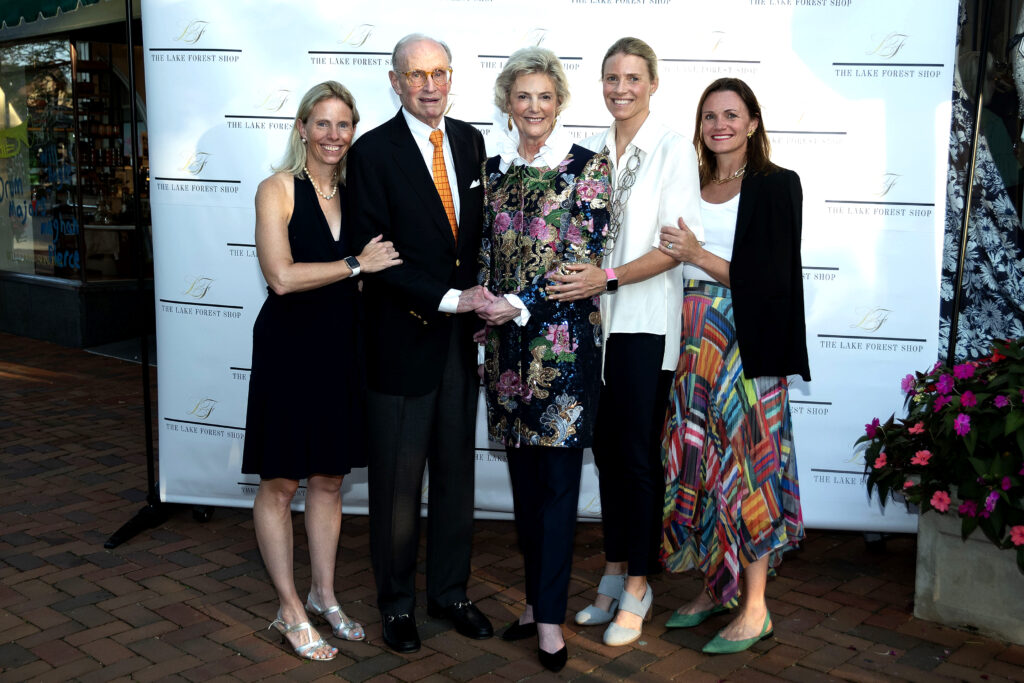 Celebrate with Ellen Stirling | Chicago Classic Magazine
Ellen Stirling's dazzling look at the recent 100e The Lake Forest Shop's anniversary celebration saluted not only a century of glamor in a boutique founded by its grandmother in 1922, but also two of its most in-demand designers. Dressed in a double-ruffled blouse by ALGO of Switzerland and a floral sequined jacket by Lourdes Chavez, Stirling greeted guests at the same market square venue founded by her paternal grandmother Margaret Baxter Foster. She proudly introduced her daughters who had encouraged her to take over the shop from her own mother Adair Foster who took over what was then called The Lake Forest Sports Shop in 1949.
Stirling introduced Moroccan designer Cyril Verdavainne to guests, calling him a beacon for the future. "Her fabrics and designs are absolute and the flow of her skirts very innovative," Stirling said.
Known not only for her fashion sense but also for her entrepreneurial spirit and philanthropy, Stirling told us a bit about her grandmother. "She loved playing and shopping with Coco Chanel," Ellen shared. "She said, 'If Coco can do this in Paris, why can't I do this in Chicago?'"
Ellen herself returned from overseas in 1987 at her father's request to straighten out the store, which had expanded to several branches. At the time, the University of Chicago art history major was living in London with her husband, Jim, and their three daughters. "My girls said 'go ahead, mom'. With all the late nights and trips to New York, my family has been wonderful.
| | |
| --- | --- |
| Philippe Goetschel and Sandy Deromedi | Christian Basedow and Leslie Basedow |
Stirling recounted his response to the challenge.
"We closed all the branches, bringing everything back to Lake Forest to have a shiny, shiny business. In 1992 we turned things around, but it was my people and my customers who made all the difference. And the best advice I ever received was to know your customers and be an active listener. You don't get a second chance to make a first impression.
| | |
| --- | --- |
| Sherry Lea Holson, Ellen Stirling, Diana Deromedi, Melanie Deromedi, Sandy Deromedi | Friends and Emily Schiller of The Style Dujour (right) xxxxxxxx xxxxxxxx xxxxxxxxxxxxx |
Along the way, the venerable stopover took the word Sports from its name. "It was a wintery Christmas Eve and a man had come desperately looking for a bowling ball as a present," she recalled.
Over the years Stirling has held thousands of fashion shows, many for charity. "It's about making the models feel good and have a good time," she said. "You want fashion to reflect who you are…and maybe with a little attitude."
| | |
| --- | --- |
| Dee Dee Martin and Ellen Stirling | Diana Deromedi, Melanie Deromedi, Sandy Deromedi |
His own experiences have been wonderfully diverse. "My craziest experience? We were in New York and a designer I was working with invited me to a party because one of his favorite muses was going to be modeling there. It turned out to be at the Playboy Mansion and the model was lying on the table completely naked. It was a whole other world. »
With all the changes in shopping due to both the pandemic and the ease of online shopping, how does Stirling describe in-person shopping today? "I suspect that when people go out shopping it's for a specific reason, not just to wander around stores."
"Do you need a new warm sweater or maybe a dress for a cocktail party?" My advice is to make sure everything you get is quality and that you really like it. You want to keep it in your closet and go back to it. Choose a color that you like and that flatters you.
We asked Ellen which colors she particularly likes. "All shades of green and I love pink. Lately I've been finding myself in the blues too. My mum always wanted to see me in navy but I revolted. Now I love navy. It's great to broaden your horizons in so many ways,"
We asked Stirling what was the secret to the survival and prosperity of The Lake Forest Shop, still operated by the same family, in times of mergers and closures.
We're all about service and making our customers feel their best," Stirling said. "It's all about our team, and they deserve heartfelt recognition for what they've done."
"Sometimes I walk past a dressing room and hear a buzz of laughter and my staff ask the most important question: 'How do you feel in there?' It is a happy experience for all.
Every October for the past 20 years, Ellen has offered "Shop Your Cause" to customers, with a portion of their purchases donated to various non-profit organizations. Participating organizations this year are: Lake Forest Preservation Foundation, Ragdale Foundation, Lake Forest Open Lands, Mothers Trust Foundation, Gorton Community Center, Stirling Hall, Elawa Farm Foundation, The Boys & Girls Club of Lake County, Northshore Community Foundation, Women's Board of Northwestern Lake Forest Hospital and Bravo Waukegan.
And what's next for The Lake Forest Shop? "We have something brewing but we're not talking about it yet," Ellen said. Something very special, knowing this remarkable fashion icon and business model.
: