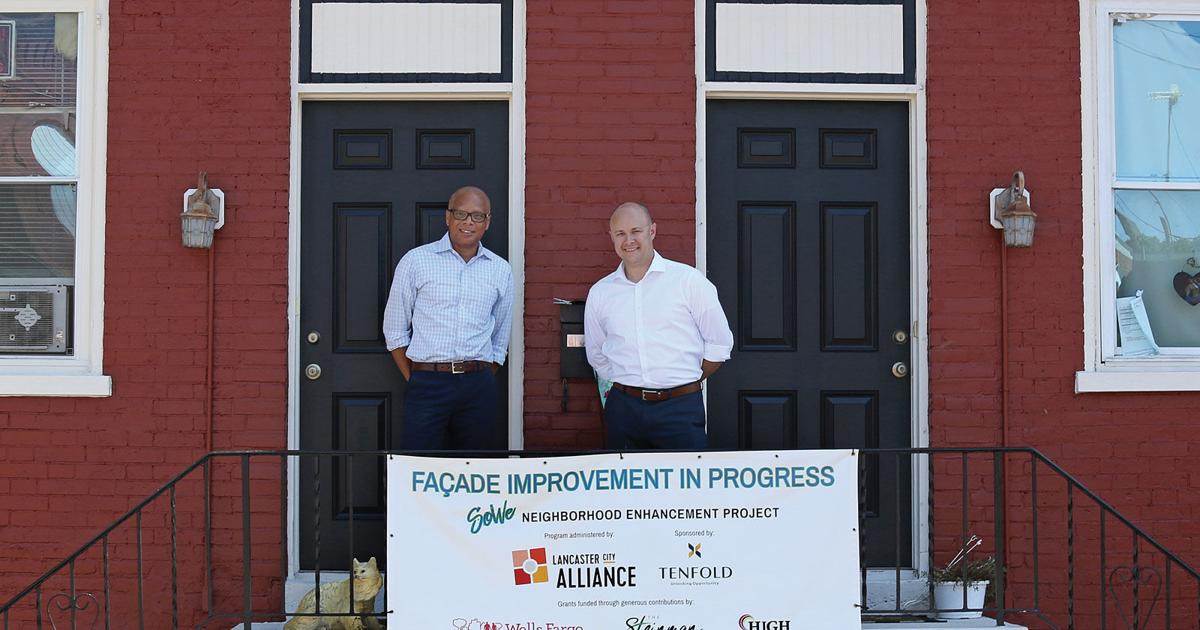 Building on strength | Sponsored Content
In 1998, Lancaster City embarked on an ambitious plan to bring economic development to the city center at a time when investor interest in the city was waning.
This plan has helped revitalize Lancaster, from streetscape improvements to $1.5 billion in investments including the Lancaster County Convention Center and Clipper Magazine Stadium.
Not wanting to rest on its laurels, the city commissioned the Lancaster City Alliance in 2014 to develop a new economic development strategy that would build on this growth.
"When we embarked on creating this plan, the focus had totally changed," says Marshall Snively, president of Lancaster City Alliance. "It wasn't about 'How do you get people to invest in the city?' It was, 'How do you do more than sustain growth but expand that growth, not just downtown, but that we see economic development and growth in neighborhoods?' "
Lancaster City Alliance unveiled in 2015 Building on Strength, a 15-year strategic plan to achieve this. Now halfway through, the plan succeeds in making the city of Lancaster stronger than ever, focusing on four priority areas:
Strategy 1: Traditional economic development
Snively calls it "bricks and sticks," or creating an environment in which the private sector wants to invest. Among the goals were $1 billion in private investment, 300 new hotel rooms and 2,500 additional residential units.
The plan has already exceeded its capital investment target, with $1.3 billion in investments.
"What's also important about this is that the investment we're seeing is not just downtown, but in areas of the city that haven't seen a lot of investment, if any, over the decades," Snively said.
One example is Plaza Centro on South Duke Street, a project with the Hispanic American Civic Association that has allowed businesses already in this corridor to expand and new businesses, especially those owned by people of color, d open shop. "Ultimately, through this strategy, the goal is to see per capita income increase and poverty decrease for city residents, since 2015 the per capita income of city residents has increased from 17,000 $ to over $24,000 in 2020, and the poverty rate has dropped from 29% to 20.6%," Snively said.
Strategy 2: Embrace the collaborative economy by cultivating entrepreneurs
The Cultivate Lancaster Entrepreneurship Coalition is an offshoot of Building on Strength, a collaboration of 25 resource providers that includes a website, cultivatelancaster.com, where entrepreneurs can access the tools they need to grow and thrive – legal services and marketing to human resources. and accounting assistant.
Before COVID, the coalition held several forums each year, bringing together some 200-300 suppliers and contractors to share ideas. Several smaller events are planned for this fall, including one for Hispanic business owners and another for women entrepreneurs.
Another direct result of the strategic plan: the development of Southern Market into a food hub, co-working space and headquarters of Assets, a non-profit association that offers support services to aspiring entrepreneurs.
Strategy 3: City Marketing
If you're wondering if word is spreading that the city of Lancaster is a great place to live, work and invest, look no further than the positive press the city has received in recent years, including articles from the New York Times praising Lancaster's food scene and the collaborative efforts that saved the town from decline.
"What small town like ours can say we've been covered by the New York Times twice, positively? asks Anne Williams, director of communications for Lancaster City Alliance.
Snively says the success of marketing is a testament to the success of other Building on Strength strategies. And that, in turn, breeds more success.
"The amount of press we've had has absolutely led to an increase in demand for residential space, increased businesses looking to locate in the city and more people visiting the city," he says.
Strategy 4: Quality of life
If you've admired the illuminated stained glass and brickwork of the Evangelical Lutheran Church of Christ and the renovated exterior of Ganse Apothecary at West King and Manor Streets, you can thank the Facade Improvement Program, another component of Building on Strength.
The program has completed 107 facade improvements since 2019, mostly in the SoWe section of the city.
"It gave us the ability to transform entire city blocks and make them investment-ready and a place where people can take pride in their community," Williams says.
While Lancaster City Alliance developed Building on Strength and manages its implementation, it is a community-owned and community-driven plan. More than 30 partner organizations and countless volunteers are key to the plan's success, Snively says.
Now halfway through, Lancaster City Alliance, with its partner organizations, is taking a closer look at the metrics of that success, looking at them through an equity lens and ensuring that Building on Strength empowers all neighborhoods of the city to be a part of their own growth.
With that in mind, Lancaster City Alliance hopes to unveil a recalibrated plan next June with an updated set of targets for the final 6.5 years of the plan.
"I would say we're pleasantly surprised that we've achieved many of these goals well before we anticipated them," Snively says. "We really want to take some time and see how the last 7.5 years have impacted the city."
Lancaster City Alliance is a non-profit organization that cultivates partnerships with business, local communities, arts, education, non-profits and government to ensure Lancaster is a clean, safe and vibrant city for everyone. For more information visit lancastercityalliance.org
---
To read more balance stories, click here.